If you've wondered why The Better Sweater Project has been close to silent this past year, it's because, in addition to graduate school and summer research, I was working hard on my wedding dress!
Let me be clear: I am no seamstress. On a scale of seamstress to delusional, I fall safely on the latter side. This project saw me cutting, sewing, groaning, and dismantling again and again.
But I am also an incredibly optimistic person. And in the end, despite my novice skills, I finished the project!
The Story
So why did I make my own dress? Well, it all started when I tried on a Rue De Seine washed silk crepe dress that I could never afford but had to have. Actually, I was not a fan of the top part of the dress, but the skirt...oh man...it was perfect. And as I walked (in it) around the store, observing the construction and how it flowed, I thought to myself, "I can make this!"
Or at least something like it! Thus began my crafting adventure.
The Process
Before I spent all my money on silk for the skirt, I bought some poppin' pink fabric of a similar weight and got to draping. [I just noticed that the note I have taped to my monitor reads: "uncontrollably compelled to do something unwise." Hah!]
Yes, this is real. Despite looking ridiculous, the beer-sized iterations really did help! I then made a few life-size versions, draped on my trusty dress form, and tweaked my "pattern" until it fit "just right." Wabi-sabi wabi-sabi!
For the top, I decided on a simple sweetheart neckline. I was lucky enough to work with my dear friend Kelly's mom, Chris (she falls on the seamstress side of that scale I mentioned before), on a pattern that fit right on over a bustier I'd purchased from Nordstrom's. Chris lives in Portland, so my mom, Kelly, and I trekked on up to Oregon over Spring Break and got to work.
Though I'd found the perfect stone-wash crepe de chine silk for the skirt, I was still looking for the right lace for the top. Portland's gigantic brick and mortar Fabric Depot had tons of options and I was able to find an ivory lace that matched my silk.
Once the draping and pattern-making were complete, I got to sewing. For the skirt, I used my machine. Though I started out doing the same for the top, I eventually resorted to sewing by hand.
For the top's lining, I used scraps left over from my mom's wedding dress (made by her mom). Here she is on her wedding day (gorgeous!) and a close up of the lining on my dress.
If you follow me on Instagram, you'll know that I completed everything but the hem in July. I then twiddled my thumbs for a few weeks, trying to figure out how to sew the hem so that I wouldn't trip.
In the end, Eric and my two best friends did almost all of the measuring, cutting, and pinning while I sat/stood in the dress (wait, this isn't how it's supposed to be done?).
Later, I dedicated a whole day to sewing (because of the skirt's draping it has a crazy huge circumference). At 2am on the Tuesday before our August 13th wedding, I finished the dress! Wahoo!
Here are few images of the funky yet functional final product: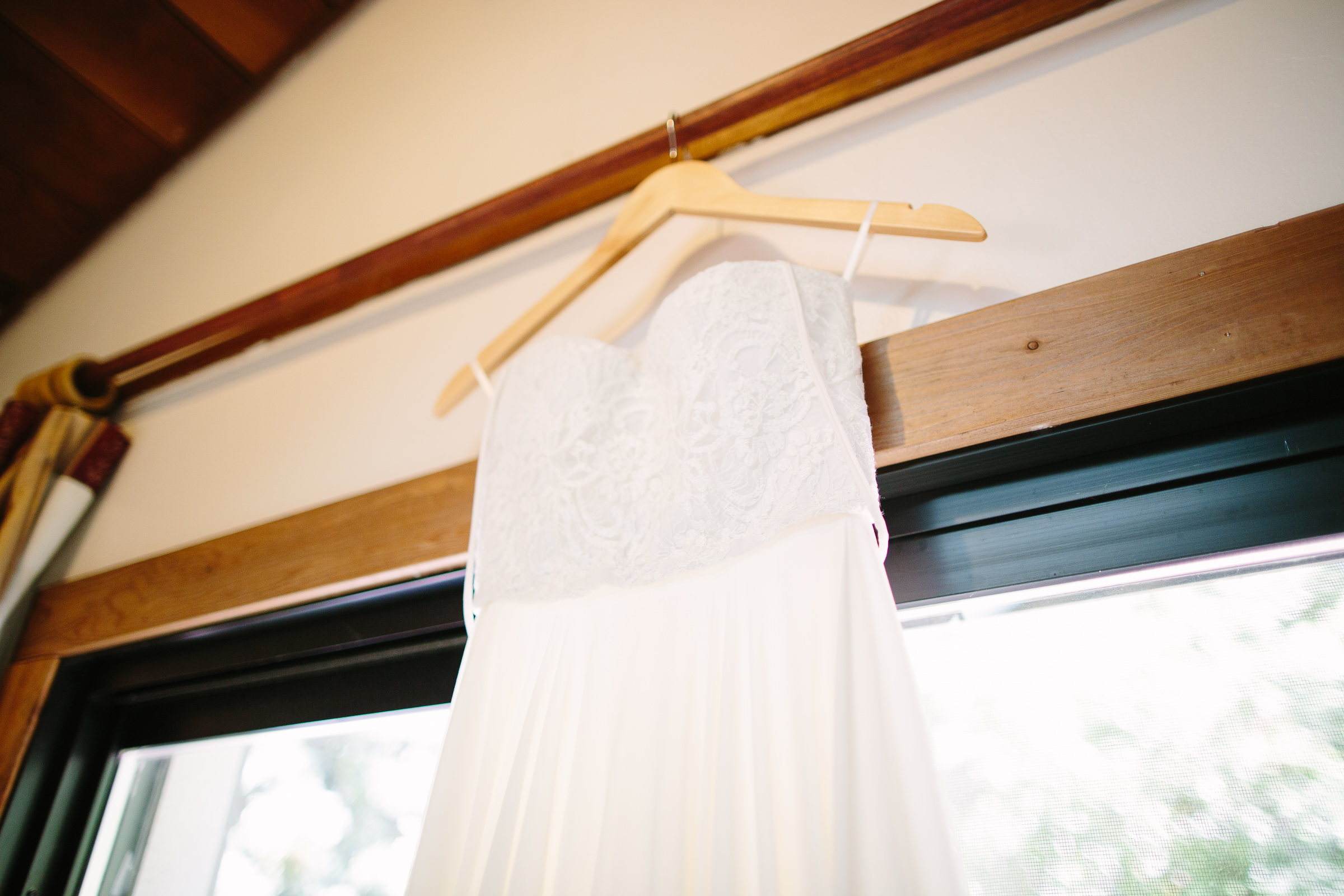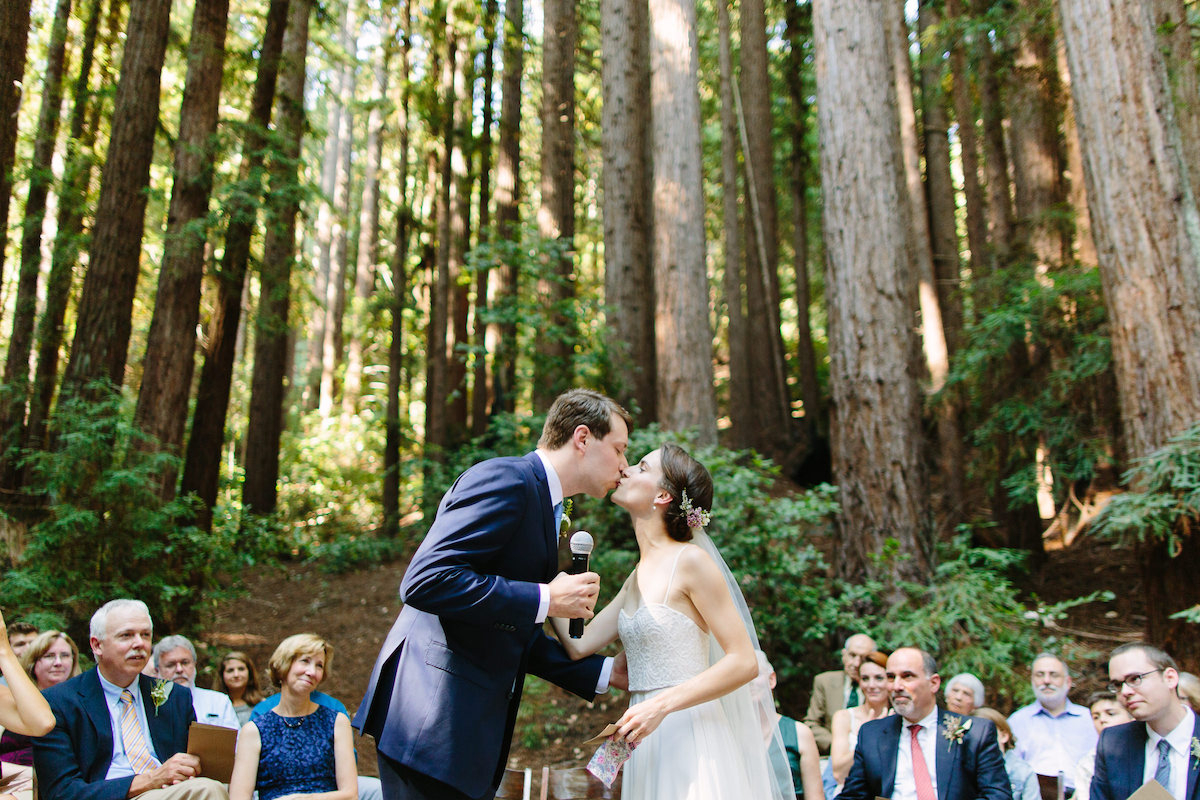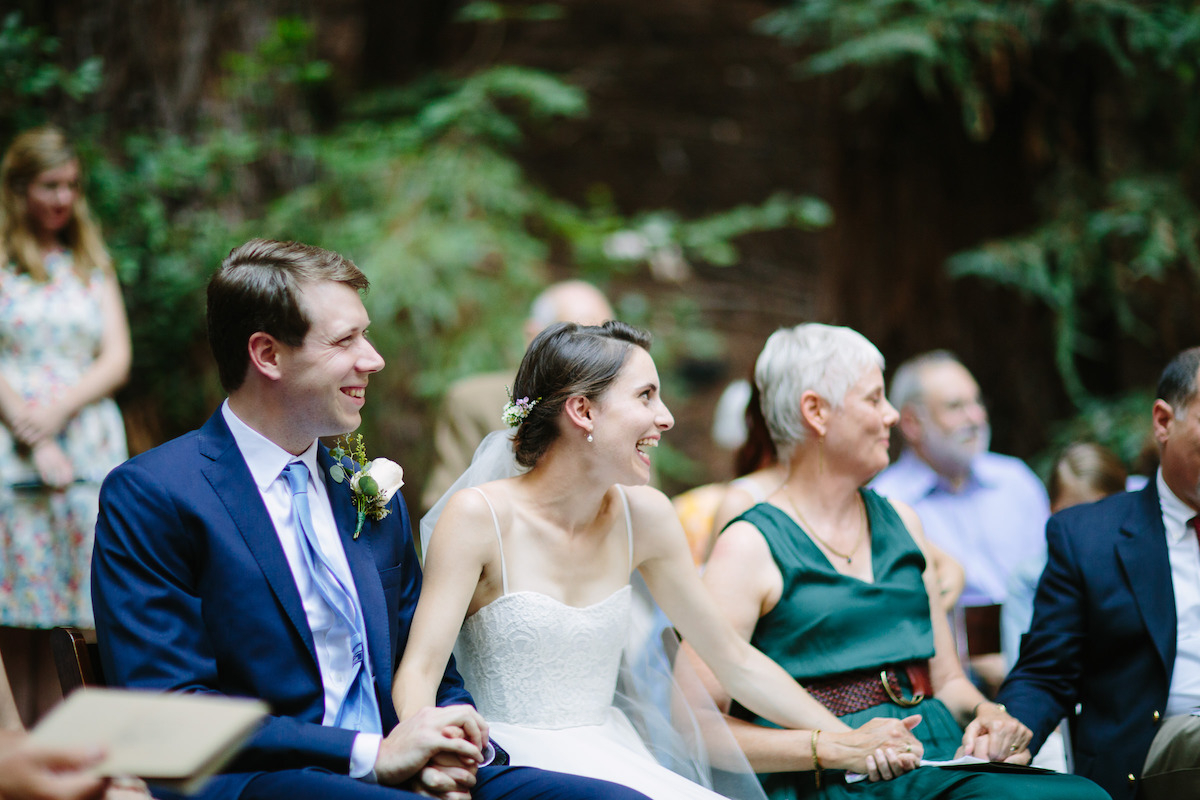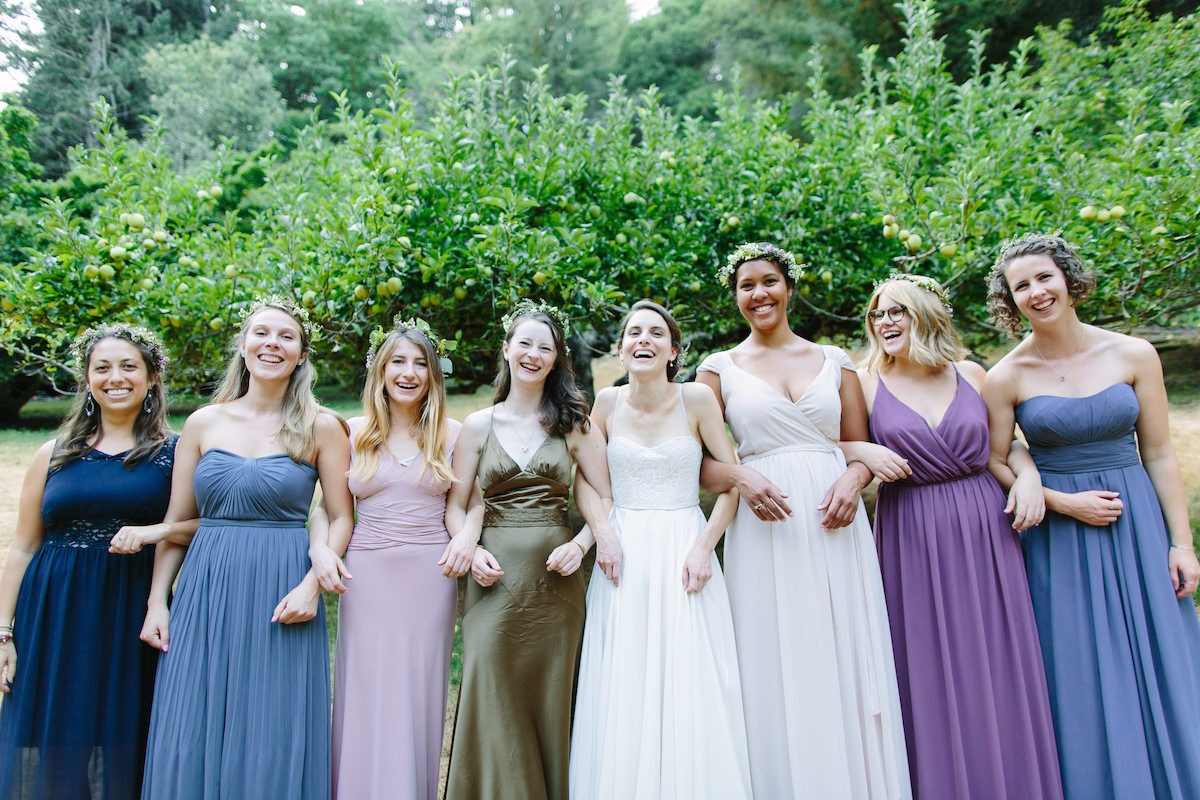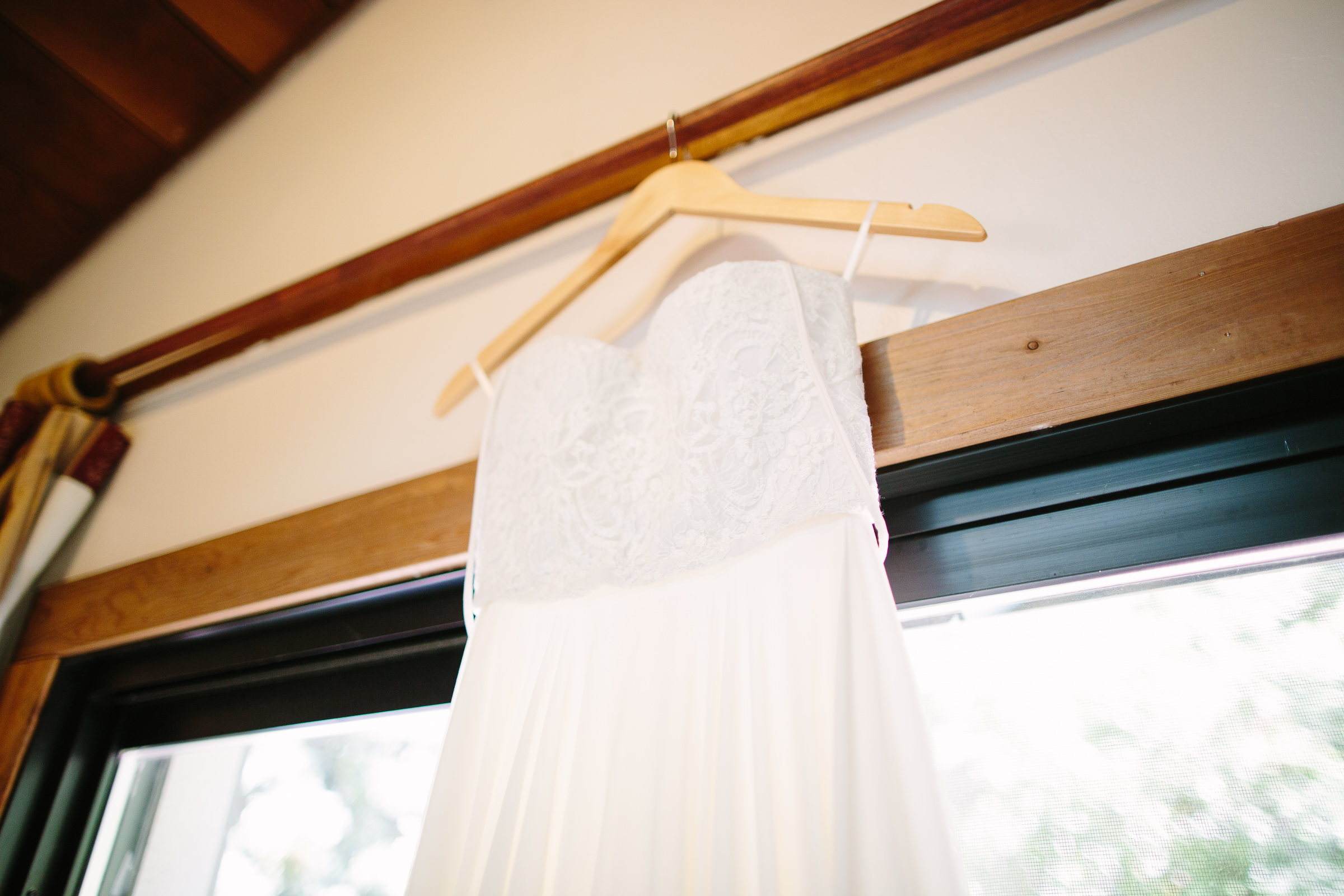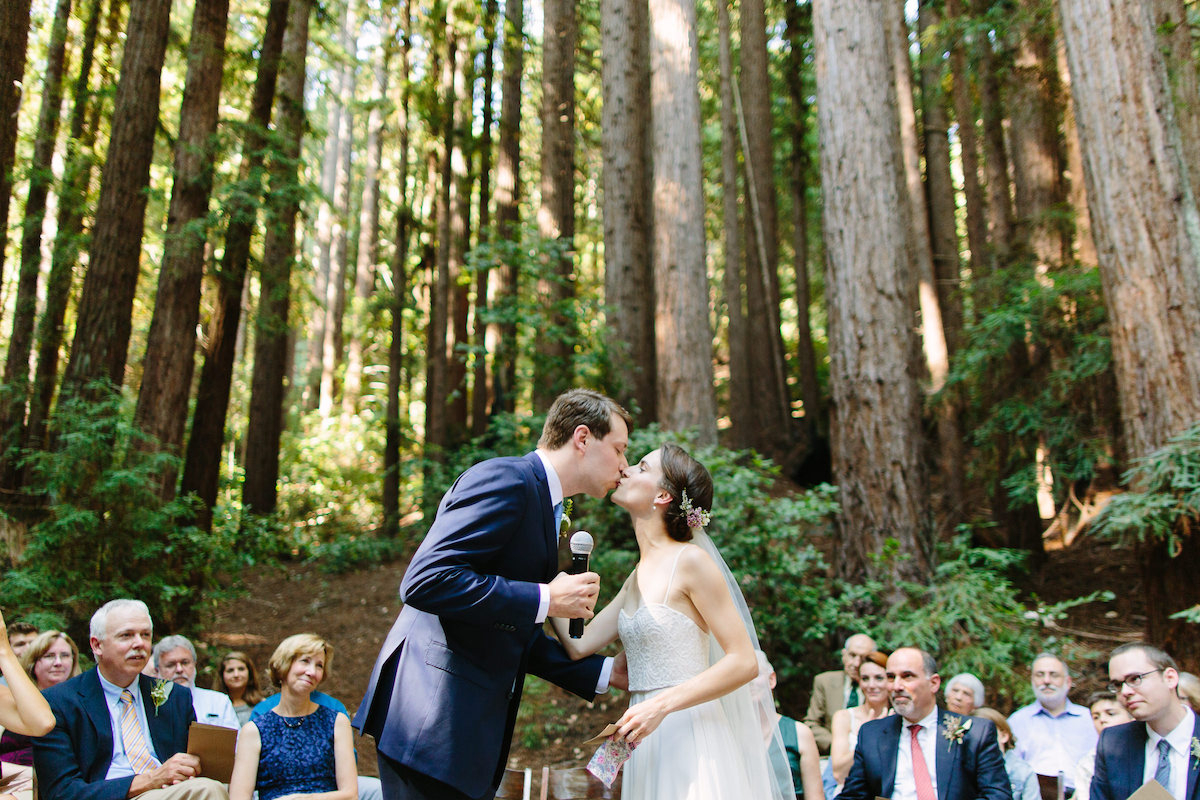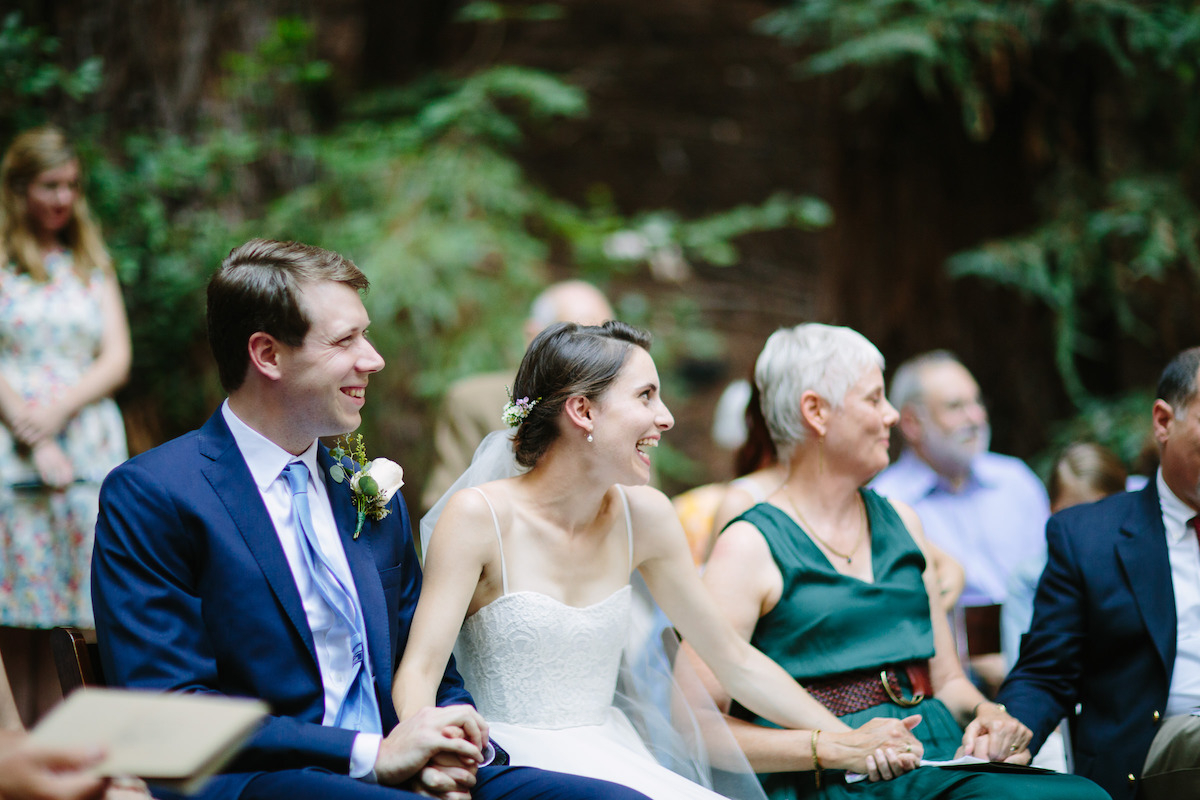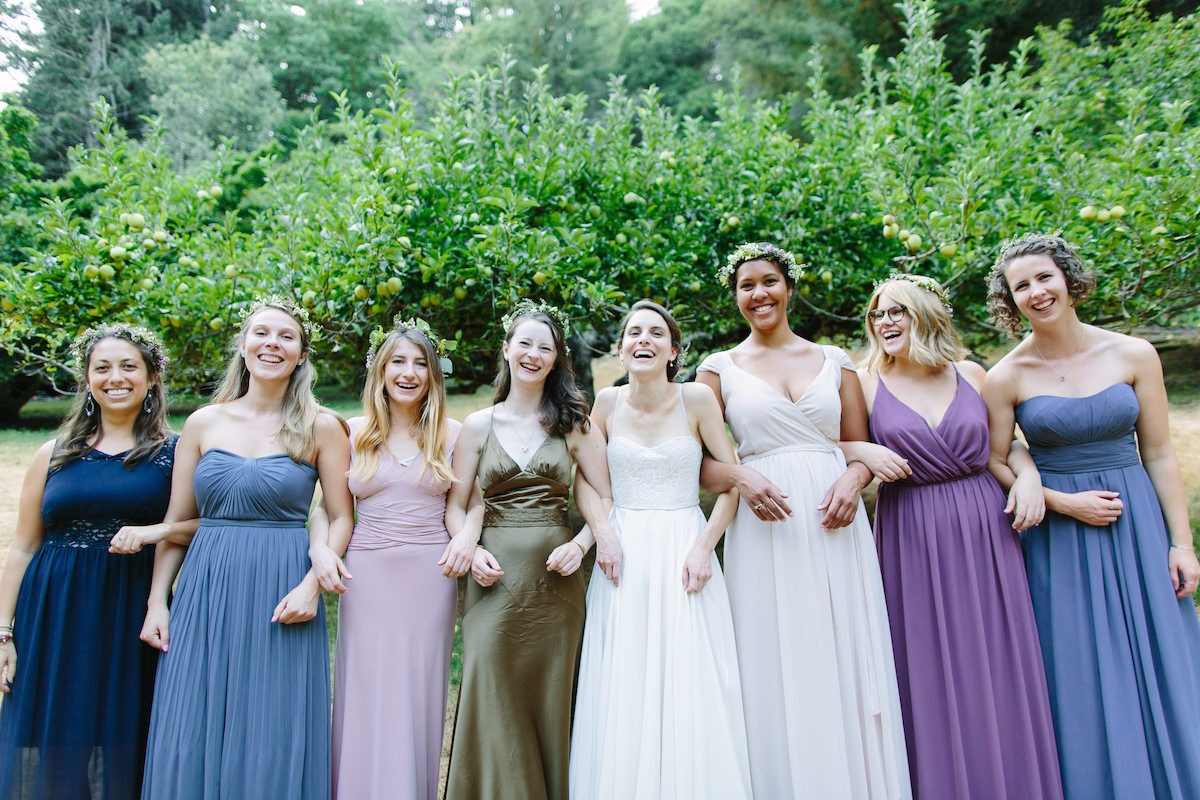 The Materials
If you are thinking about making your own dress, make sure you have plenty of the following:
Optimism (you can do it!)
Wabi-sabi mentality (embrace imperfection!)
Supportive friends and partners (to help pin, cut, etc.)
In addition, you might also need these items if you want to make a similar dress (also, note that I am 5' 3"):
Lace - 1 yard (purchased at Fabric Depot in Portland)
Stone wash crepe de chine silk - 10 yards total and used for the skirt and layering under the lace top (purchased from Dharma Trading Company)
Antistatic polyester lining for the skirt - 8 yards (purchased at Fabric Depot in Portland) - Note: if I were to do this again, and wasn't so cheap, I would not have gone with a synthetic
Lining for inside the top (I used my mom's wedding dress scraps)
Silk pins
Bustier (mine was by Betsey Johnson purchased at Nordstrom) - Note: I had a Nordstrom tailor hem the bottom by about an inch so that it sat just above my belly button
Bustier pattern (Chris designed mine but there are plenty of patterns out there!)
Zipper (for closing the back of the dress)
Hook & eye closures (for ensuring the dress stays closed!)
Silk thread (three spools was enough for me!)
Really freakin' sharp scissors
I also made my own veil by gathering the tulle material and stitching it to a metal hair comb. There are plenty of tutorials for DIY veils online. Then, on the day of the wedding, two of my friends cut the bottom so that it flowed. Yes, really!
Materials used:
Metal hair comb (purchased on Amazon here)
Thread - whatever is left over
Ivory tulle - 3 yards (purchased from Fabric Depot)
All told, I spent under $400 on materials, though the labor/stress cost was thousands! Joking aside, making this gown was an incredible experience. What a thrill to take on a complicated project and complete it.
I also attempted to make a wedding shawl, which at the start I was super jazzed about (case in point this eager beaver blog post). I purchased the yarn, tried two different patterns, and in the end the whole project felt like a chore. While making the wedding dress was tough yet thrilling, knitting (a craft that I love) the shawl felt soul-sucking and brought me little joy. So I stopped. Now I have a bunch of beautiful Lerke yarn and am excited to see what else I can make without the pressure of a wedding deadline!
For more images of the dress and our wedding, check out this slideshow (pictures by the incredible Tim Coulson):